Hi Luke
Hope you're having a lovely long weekend!
Just wanted to share that Shelvin and I's wedding made it in Bride and Groom magazine issue and it has great shots of the marquee and your amazing work 🙂 make sure you buy a copy!
Regards
Hi Luke,
We had an amazing day. There were plenty of comments on the setup – well done to you and your team.
Regards
Hi Luke
Despite the rain and wind we had a wonderful evening. Thank goodness we put the end screen up.
I would just like to thank you and your team.  You and your company have been a pleasure to deal with.  You came up with innovative solutions and everyone was helpful and pleasant and nothing was too much trouble.  We appreciate the time and trouble you put into, what must have been, one of your smallest projects but you knew it was important to us.
Once again many thanks and I would recommend your company to anyone.
Kind regards,
Lynne Worth.
Hi David,

Platinum Hire supplied the wonderful marquee, dancefloor and silk lining for my wedding on Waiheke Island on April 5th this year. The day was co-ordinated by Sophia by My Waiheke.
Although it is now 2 months late, I wanted to reach out and say that your team did a wonderful job in the set up and pack down and the quality of the marquee and lining was sensational. We were so, so impressed with our work with the company and we wouldn't hesitate to recommend you.
I have attached some photos in case you are wanting to use them for social media or your website – or just to share with your colleagues on what an amazing job your team did for us on that day.
Thanks again David,
Have a nice day.
Hi David,
Thank you, have made the payment for you this morning.
I just wanted to say also, thank you so much for your excellent services. Your staff are so professional and just did a fantastic job. I also really appreciate that your team were able to come and put those marquees up for us at such short notice, a testament to an outstanding business.
Thanks very much,
Good Morning David
Firstly a big thank you for the service you provided at the sales. Gordon was very impressed with the marquee and the feedback we had from clients was very positive. Best year ever!!!
Can we please book in for next year.
Kind Regards,
Dear David
I just wanted to send you a quick email to thank you so much for your amazing service and a wonderful Marquee that you supplied us.
Please thank your team who we could not fault at all. Lovely team of men.
I will certainly be telling anyone who wants a marquee to go to you.
Thank you once again David.
Kind regards,
Hi David
Just thought I would send some images through of the party on the weekend, looked good and the feedback was great too. Thank you to your team for all the hard work in putting this all together, people totally loved the marquee too!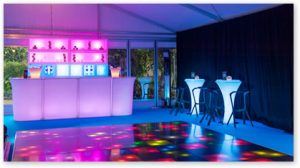 80's Party
Look forward to working with you soon,
Thanks,
Hi David,
Many thanks for another great job, providing a really nice marquee and furnishings, very professional without any problems.
Kind regards,
Ports of Auckland
Thanks David,
As Always, your boys are a dream to work with.
Kind Regards
Hi David
Thank you once again for enhancing Amy and Nigel's wedding day with the Marquee. Your guys were a pleasure to deal with and I have no hesitation in recommending your Company in the future.
Design: The Ultimate Man-pad
By Ben Crawford
I live in my own little one-bedroom apartment in a leafy Auckland suburb. And by "my own" I mean I rent it. It's nice. There's a deck with a pretty view. It's stylish and Eden Park is just across the road. But my fridge is inevitably empty when I open it, I need to cook my own meals and even if I stand on my tip-toes and crane my neck at just the right angle, I can't quite see the sporting action within Eden Park.
A perfectly acceptable seven out of ten on the globally recognised man-pad scale. But I think I've found a ten.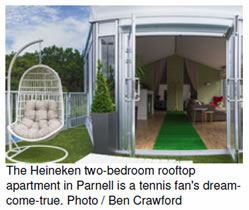 Perched on the roof of the ASB Tennis Arena in Parnell might just be the world's ultimate man cave. Although man cave doesn't do this two-bedroom apartment justice. A luxe retreat for the sophisticated male would be more of an apt description.
Hi David
The party was fantastic and the marquee was great in every way, thank you. Your guys are very professional and efficient.
Thanks very much
Kind regards,
Hi there,
Just wanted to thank you for the organising of the marquee and bits and pieces for our wedding on Waiheke on March 16th, everything went off seamlessly and looked great – the marquee was perfect for the space.
Thanks very much!

Hi David,
Many people including the bank were impressed with a) the quality and b) the cleanliness and c) the overall effect of the marque and wanted to know who, what etc and I have given them your details.
Once again many thanks.
Regards
Thanks David,
We were extremely pleased with the quality of marquees and the furniture was fantastic. Your team are always very friendly as well and super helpful!
Dear David,
Thank you for being a valuable part of the recent FYD Excellence Awards at Government House Auckland.
The night was a worthy celebration of our amazing award winners. It provided the perfect platform to share and acknowledge their success stories, recognise their comimitment in reaching their goals and listen to their personal stories of transformation. Additionally, it allowed FYD the opportunity to thank our amazing family of sponsors who make our work possible.
Once again, thank you for your support of FYD in growing a nation of great Kiwi kids. Please find enclosed some photos from the evening.
Kind regards
Dear David,
Thanks so much for everything, it was a pleasure to deal with you and Platinum Hire, nothing was a problem and you went the extra mile to make my day special. The marque was absolutely gorgeous and everything I dreamt it would be, it was a fairytale wedding and I am so glad we used you.
We will definately without a doubt use you again and I would recommend you to anyone.
Many, many thanks,

Hi David
Firstly, I just wanted to let you know that Jimmy and I had the best day of our lives on Saturday. We wouldn't have changed a thing – it was absolutely perfect.
Thank you and your team for being a part of what made it perfect. There were so many comments about how amazing the marquee looked and I must mention your incredible staff (Luke was fabulous) – they had impeccable attention to detail. The marquee exceeded everyone's expectations – it simply looked stunning. As I walked towards the aisle, through our house and out in to the marquee with my Dad, my breath was taken away. Thank you thank you thank you.
I would recommend the silk lining as it really made it feel like a location and had such a beautiful, elegant finish. The marquee was in superb condition and left very few remnants that it was even there once everything had been packed down.
I have already, and won't hesitate in the future, to recommend anyone thinking about a marquee for their wedding to choose you.
Once again, thank you so much. We really had the BEST day ever.
Cheers,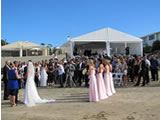 Hi Luke
This email is long overdue.
Today I went on the Platinum website to find out whom the CEO/owner of Platinum Hire was.
It wasn't apparent so I then went to the NZ Companies Office website to see you whom the shareholders / directors were.
My intention was to tell your boss what an exceptional job you did for our party and to say If you are not looking after this guy then you will eventually lose him.
Anyway it became apparent you are the owner of Platinum Hire and I can see why.
Obviously event management is your core business but for us it was critically important (obsessively as you could no doubt tell) that we could manage the weather risk.
I've been an owner and operator of various businesses all my life and have come to appreciate that the only common thread to sustained success has been delivering for customers when others wouldn't or couldn't.
You were great, your team was great and when it stated raining late afternoon I well knew that our function was an additional headache you could do without when you had other commitments to deal with (such as weddings).
However at 6.30pm on a Friday night you came and made sure all was OK.
Please thank your team for us and until the next time I wish you all the best.
Cheers
Hi Sophia and David,
Just want to say a big thank you to you both for helping me with organising a marquee for our wedding. You both made it very easy and the marquee was amazing as were the guys that put it up and down again. Will definitely recommend Platinum Hire to others. Once again, thank you very much!
Thanks David.
All paid. I'd just like to commend you on your team. They did an amazing job. Nothing was too much trouble. They were the ultimate professionals. You should be very proud.
Thanks once again,
Good afternoon Dave
Just want to send a quick email with a very Big THANK YOU, to you and your team. Once I return to the office I will send a reference and pictures that you may like to add to your website.
The marquee and set-up of was executed professionally and looked magnificent. Your team carried out everything in a very professional manner, your team were efficient and polite and took superb care of our property, all of this we are very grateful for.
My apologies for not being home to check all had been left ready for dismantle, which is why the boxes for the lights were stowed in our stables.
Please let me know if there is anything that was not returned in correct order so we can sort immediately.
We will certainly use your services in the future and have no hesitation in recommending your company to others.
Kind Regards,
Dear David
Seriously without you we wouldn't have been able to have a party! Thank you for taking on the massive project and making it seem like a breeze (you made us feel confident that it would all work out – rain or shine!) You and your team did a great job working around our schedule and setting up a sturdy beast of a tent. The tents were gorgeous inside and out and the chandeliers were just what I had envisioned – so thank you for that! Hope you were able to have some fun the week you were up there.
Kindest regards and thanks again,
Hi David,
Thanks so much for your wonderful service. It has been great dealing with yourself, Mark and the team. So professional and so fun too! Everyone loved the marquee and look on the day.
Hi David,
Thanks for everything your company was very professional and met all our expectations
Morning David,
Fantastic wedding! Thank you so much..the guests were highly impressed with the quality of the marquee. Absolutely huge effort from your guys..thank you. The place looked stunning!
Many thanks again for all your input and effort.
Kindest regards,
Good morning David,
I just wanted to email you and tell how please we have been with you and your team. The service and flexibility you have shown is much appreciated and I will keep you in mind for future events.
Kind regards,
Dear David
This is a small thank you for all your time, dedication and hard work that went into making our wedding so amazing. It was beautiful beyond words and so seamlessly executed in every way which of course made it such a pleasure for us all.
This has been home-made with care and gratitude from the Myers/Overton Kitchen with thanks and appreciation.
Warmest regards,
Dear David
On behalf of our families from Ronald McDonald House Auckland, we want to say a big "Thank you' for your continued support through our Supper Club fundraiser that each year raises much needed funds and awareness within our Auckland community and beyond.We are excited to share that plans for 2014's Supper Club are well underway seeking major sponsorship as we speak. We will be in touch again in the New Year and we would love to have Platinum Hire on board again. Please save the date for Tuesday August 5th.In our latest newsletter you will see that we have had a busy year and your support has made sure that we are here for every family that has needed us.Please circulate amongst your team so we can all see your impact of support, we hope you all have a successful Christmas season and enjoy a nice hot Kiwi Summer – we look forward to seeing you in 2014.Warm Regards,

Dear David
On behalf of the Breast Cancer Research Trust we would like to thank you for your generosity in donating the chairs for our Fashion for a Cure event at Highwic House.The evening was a great success raising $32,858.The money raised will help fund ground breaking research to get us closer to our goal of finding a cure for the next generation of New Zealand women by 2018.It's an ambitious but crucial goal, as one in nine New Zealand women will now be diagnosed with breast cancer in their lifetime, and 660 women die of it every year, our work becomes increasingly urgent.With your committed and ongoing support, the search for a CURE is accelerating and the concept of a future free of the fear of breast cancer for New Zealand women is becoming a reality.
Hi David
The wedding was sensational and a large part of that was the amazing job you did with the Marquee . Glad you organised the weather as well. You should be very proud of your staff and the standards they hold for your company. Thank you again we will certainly be recommending you and using you again should the need arise.
Kind regards,
Hi David
I just wanted to email and say a big thank you to you and the 2 guys that came up North to put up the marquee. It looked amazing and we had lots of comments from guests about how lovely it looked, especially with all the fairy lights we had. The 2 guys that came up to set it up and pack down were just great, very helpful and friendly and easy to get along with. We would definitely recommend platinum to anyone wanting great service and a great marquee!
Thanks again,
Hi David
Myself and my new wife would just like to say a couple of kind words for your help.
The bar was amazing, both our barmen loved it and it was a great help on the day. We were surprised that the bar didn't need additional power, however this was a great help to us as it meant we didn't need to worry about running additional power cords.
The lighting looked great on the bar in the evening and it really helped balance the room. The delivery and removal was super swift and efficient (I think the delivery guy was onsite all of about 5 minutes)
Thanks again for helping make our Wonderful day just that: Wonderful
Hi David
A quick note to let you know that your guys were great yesterday – the two marquees look perfect – easily the best marquees we have hired in NZ!
Cheers,
Dear David
I want to say how impressed we were with your company – the men who put up the marquee etc, and then came today, were so professional and represented all that one hopes for in good customer service. It is a delight to see a good Kiwi company in action. I mentioned this at La Lumiere today when I returned some lights we had hired and it seems your company works alongside them at times. We have used La Lumiere before and have been equally impressed with them.
We were very pleased with our choice of marquee and furniture- it has opened up a new dimension for us when thinking about entertaining. It is particularly nice to use one's home and this enabled us to do so with ease.
Regards,
Dave and the team at Platinum Hire,
Just a small note to say thank you very much for all your work and efforts with our marquee – it was beautiful! Everything I had wished for and more. I would recommend you and the team to anyone, I know you went above and beyond for us so thank you – it was much appreciated.
Kind Regards